TBS2603se NDI® supported H.265/H.264 HDMI Video Encoder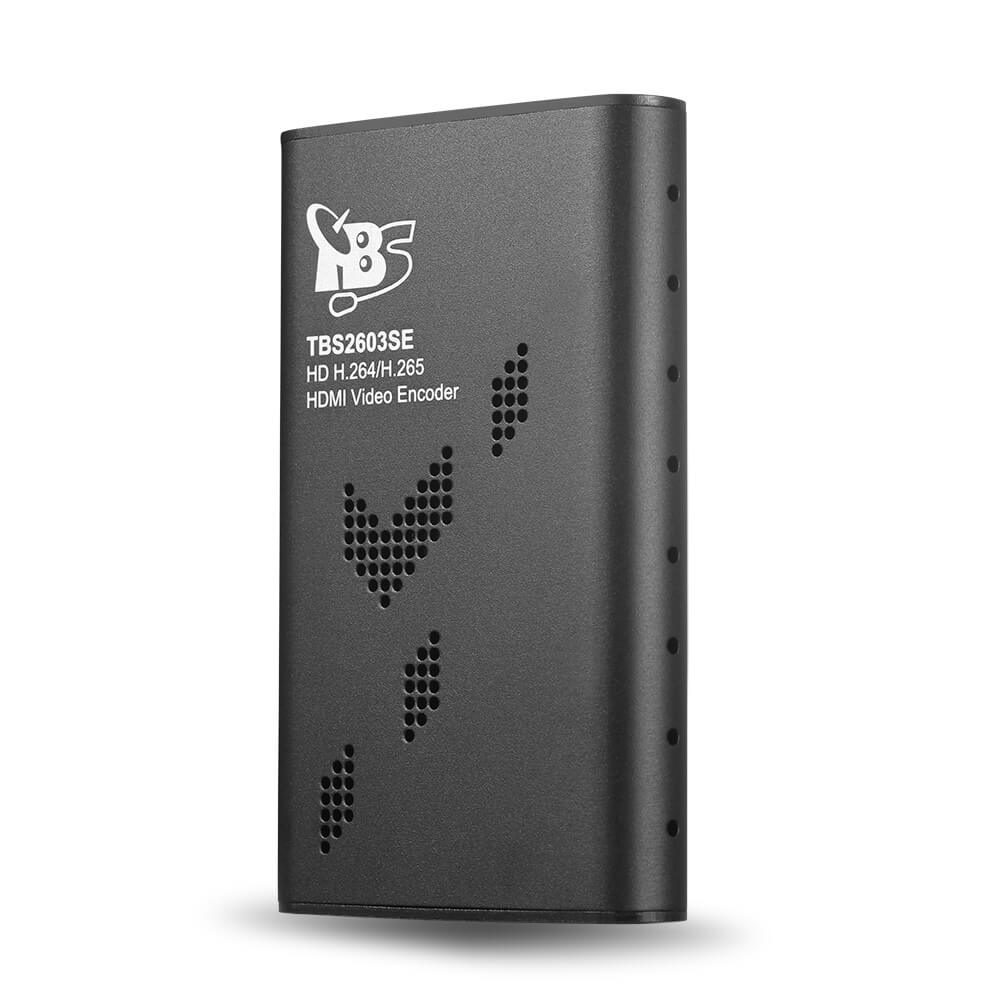 TBS2603se NDI® supported H.265/H.264 HDMI Video Encoder
The TBS2603 has now been discontinued and replaced with the TBS2603SEV2 - Available here
TBS2603se NDI H.265/H.264 HDMI Video Encoder has been integrated native NDI® support, which allows to send your HDMI video source through your local network, over Ethernet for use with other NDI® compatible systems. It helps to connect your video cameras and other devices to your live production system, video applications or streaming devices.
The TBS2603se is a professional HDMI video encoder, which supports 1 channel HDMI stream of H.264/H.265 encoding output and the AAC, Mp3 audio format. The TBS2603se can encode video streams from any HDMI video source to various media streaming servers (Wowza, Read 5, Xtream Codes, Flussonic, FMS etc) or online live broadcast platforms (Youtube, Facebook, Twitch, Vimeo, etc. ) over IP in real time.
TBS2603se video encoder is widely applied education, health care, IPTV, conference, remote education, news interview, banking, transportation and other industries.
Model Numbver
TBS2603SE
Video Input
1x HDMI 1.4
Audio Input
HDMI embeded
Video
Input Resolution
1920x1080P_50/60HZ; 1920x1080I_50/60HZ;1280x720P 50/60HZ;
720x576;640x480, and etc.
Ouput Resolution
1920x1080@60fps; 1680x1050; 1280x720; 1024x576; 850x480;
720x576;720x480;640x480;480x360;360x240; auto; customized and etc.
Encode
H264 base line, H264 Main, H264 High, H265 Main
BitRate
0.5Mbps-20Mbps
BitRate Control
CBR, VBR, AVBR,FIXQP
Protocol
HTTP, HLS, RTSP, RTP/UDP Unicast/Multicast, RTMP(RTMPS)
Audio
Encode
AAC, MP3, MPEG2, PCMA
Sampling rate
16K, 32K, 44.1K, 48K
Sampling precision
16 bit
BitRate
32Kb/s ~ 256Kb/s
Network Stream IN
Video
H264, H265
Audio
MPEG2, MP3, AAC
Protocol
HTTP, RTSP, RTP/UDP
System
Ethernet / RJ45
1000 Base-T Ethernet interface
Supported System
Windows XP/VISTA/SERVER/WIN7/WIN10 ; Linux; MAC OS
Control
webUI
General Spec.
Dimension
98*61*15mm
Power Consumption
Less than 6W