TBS2603V2 NDI®|HX Supported H.265/H.264 HDMI Video Encoder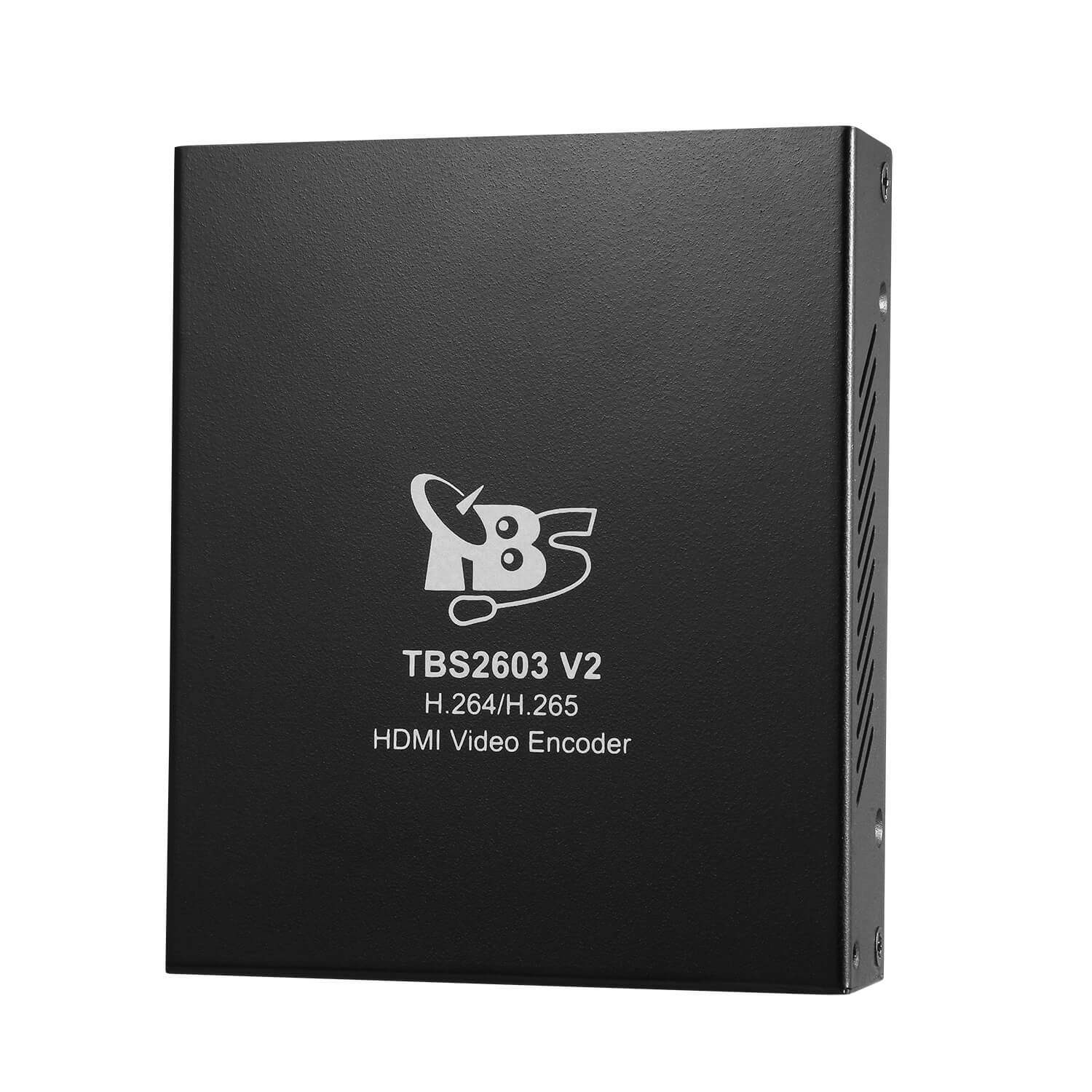 TBS2603V2 NDI®|HX Supported H.265/H.264 HDMI Video Encoder
An additional license fee is payable for the NDI activation. Please contact us for further details.
TBS2603V2 is an NDI®|HX supported H.264/H.265 video Encoder, It supports 1 channel HDMI stream of H.264/H.265 encoding output and the AAC, Mp3 audio format. From any HDMI input source, it generates an H.264/H.265-encoded stream compliant with HTTP/RTSP/RTP/RTMP/UDP protocols. The product can be applied to education, health care, IPTV, conference, remote education, news interview, banking, transportation, and other industries.
TBS2603V2 NDI®|HX use a high efficiency, low bandwidth form of NDI®, which allows to send your HDMI video source through your local network, over Ethernet for use with other NDI®|HX compatible systems. It helps to connect your video cameras and other devices to your live production system, video applications or streaming devices.
Features:
Visual input (Preview)
HDMI video input,H.264/H.265 Encode
Supports video or audio encode separately: video out only or audio out only (the default is "video + audio" out).
NDI®|HX streams output
HDMI-embedded & Line-in Audio input
AAC-HE, AAC-LC, MP3, g.711 audio encoding
Bitrate of output video stream is adjustable from 500kbps to 20Mbps
Support HTTP, HLS(m3u8), RTSP, RTP/UDP Unicast & Multicast, RTMP/RTMPS, SRT, NDI | HX,
Support NDI | HX2
ROI (Regin of Interest)
Support Video Rotate, Video Crop
Support inserting Logo, Text/Scrolling and Time Code Display to the video
Support Input Preview
Support HDCP and HD blue-ray
Flexible and friendly webpage control
Stable and effective, support 7 x 24h working time
Model NO.
TBS2603 V2
Video Input
1x HDMI 1.4
Audio Input
HDMI embeded, Line in
Video
Input Resolution
1920x1080P_50/60HZ; 1920x1080I_50/60HZ; 1280x720P 50/60HZ; 720x576; 640x480, etc.
Ouput Resolution
1920x1080; 1280x720; 1024x768; 960x540; 850x480; 720x576; 720x480; 640x480; 640x320; 320x180.
Codec
H264 Baseline/H264 Main/H264 High Level 4.2; H265 Main Level 4.1
Frame Rate
5 ~ 60 fps
Key Frame
5 ~ 200fps
BitRate
0.5Mbps ~ 20Mbps
BitRate Control
CBR, VBR
Protocol
HTTP, HLS(M3U8), RTSP, RTP/UDP Unicast/Multicast, RTMP/RTMPS, SRT, NDI|HX
Audio
Encode
AAC(AAC-LC, AAC-HE), MP3, G.711
Sampling precision
16 bit
BitRate
24Kb/s ~ 320Kb/s
System
Ethernet / RJ45
1000 Base-T Ethernet interface
Supported System
Windows XP/VISTA/SERVER/WIN7/WIN10; Linux; MAC OS
Control
Web UI. Recommened Browser: Google Chrome, Firefox
General Spec.
Dimension
114mm * 96mm * 27mm
Power Consumption
Less than 5W