TBS2605 2 channel 4K or 5 Channel 1080P 60hz HDMI Video Encoder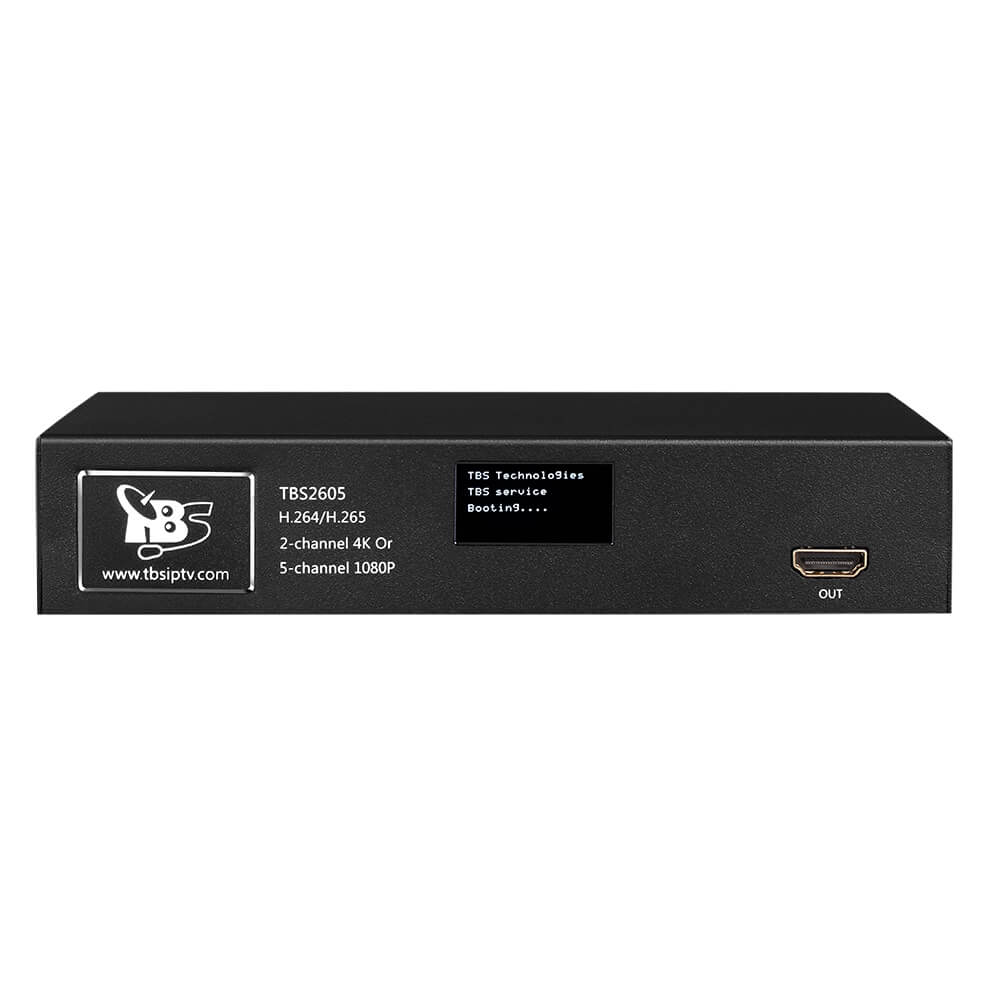 TBS2605 2 channel 4K or 5 Channel 1080P 60hz HDMI Video Encoder
The TBS2605 is a professional 4K/H.265 HDMI encoder, which is also our newest HD audio & video encoding device with powerful functionality. It supports real 4K, up to max 3840 x 2160P@30fps.
TBS 2605 HDMI Video encoder not only supports 2 channels 4K or 5 channels H.265 encoding, but also supports multiprotocol output. Each channel supports HTTP/HLS/RTMP/RTSP/UDP protocols outputting simultaneously, which is ideal for the customers who need to output with different protocols.
TBS 2605 is coupled with Web UI managing system and telnet remote access, and equipped with video mix and split screen display function, which provide users flexible choices to control the encoder at anytime and anywhere.
Specifications:
Model Number
TBS2605
Video Input
5x HDMI 1.4
Audio Input
HDMI embedded audio
Video
Resolution
Input: 3840x2160, 3392x2208, 2592x1520, 2560x1440, 2304x1296, 1920x1080, 1680x1056, 1280x720, 1024x576, 850x480, 720x576, 640x480, 360x240, and etc.
Output: 3840x2160@30fps, 1920x1080@60fps, 1680x1056, 1280x720, 1024x576, 850x480, 720x576, 640x480, 360x240, and etc.
Encode
H264 base line, H264 Main, H264 High, H265 Main
Data Rate
0.5Mbps~20Mbps
Rate Control
CBR/VBR
Protocol
HTTP/HLS/RTMP/RTSP/ UDP
Audio
Encoding
AAC, MP3
Sampling rate:
16K, 32K, 44.1K, 48K
Sampling precision
16 bit
Data Rate
32Kb/s ~ 256Kb/s
Network Stream Input
Video
H.264 / H.265
Audio
MPEG 1/2, MP3, AAC
Protocol
HTTP / RTSP / RTP / UDP (multicast, unicast)
System
Ethernet / RJ45
1000 Base-T Ethernet interface
System
WINDOWS XP/VISTA/SERVER2003/SERVER2008/WIN7 32 and WIN7 64; LINUX
Control
WEBUI
General Spec.
Dimension
185 * 119 * 36mm(length, width, height)
Power
less than 15W