EasyStream ES264 HDMI H.264 HD Encoder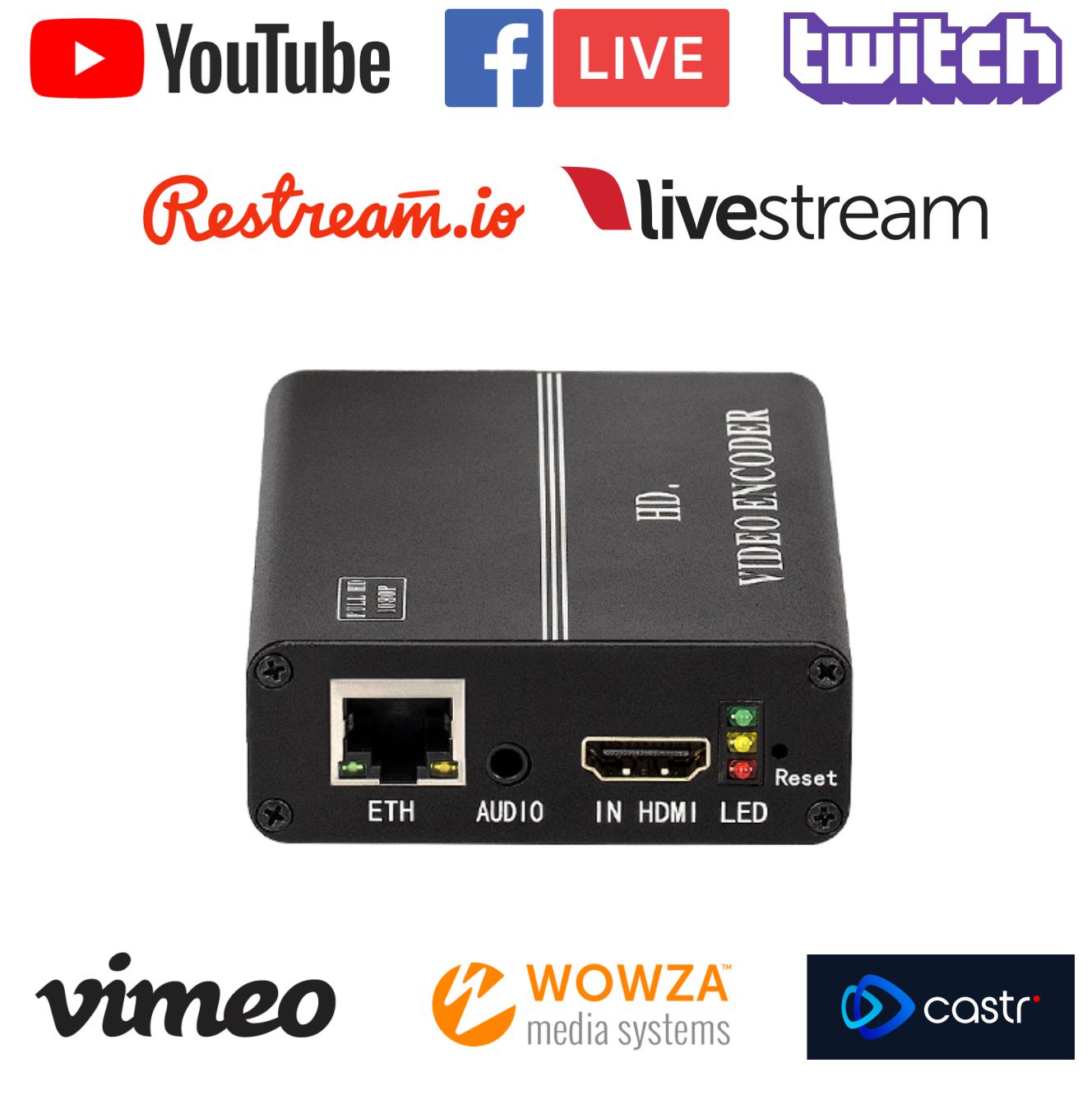 EasyStream ES264 HDMI H.264 HD Encoder
1-channel HD HDMI input, 1-channel audio input.
Single stream output.H.264 format (max 30fps)
Audio: MP3, AAC, G.711 format.
Simple web based user interface with stream preview.
Supports HTTP / RTSP / RTP/ TCP / RTMP /  UDP / ONVIF protocols.
The EasyStream ES264 HDMI encoder is a cost effective HDMI to H.264 HD encoder. Input up to 1920 x 1080 60fps, output up to 1920 x 1080 30 fps.
With a simple web based user interface the ES264 HDMI encoder is ideal for live streaming to facebook, youtube, castr, twitch etc.
 The EasyStream ES264 features a standby mode, this will display a blue screen when the attached device goes to standby, the stream will automatically recover when the device is switched out of standby.
The simple dashboard produces a live preview of your stream, so you can check the quality before pushing live to any RTMP server.
With UDP Multicast output the ES264 can stream a multicast H.264 stream on to your local network, this stream can then be accessed by any connected device, such as PC, mobile or set top box.
The EasyStream ES264 features a text overlay option, enabling a simple text on screen identifier.
Input
1 Channel HDMI input, 1 Channel line in audio
Output
1 channel IP signal output
Video
Input resolution
Up to 1920x1080p 60 FPS, standard HDMI resolution
Coding standard
H.264
Coding level

H.264 BASELINE PROFILE

H.264 MAIN PROFILE

H.264 HIGH PROFILE

 

Encoded size

640*360~1920*1080
Video bit rate
Rate control: CBR/VBR 16KBIT/S~12MBIT/S
Video frame rate
5- 30 fps
OSD
Text, Image
Audio
Input selection
1 channel embedded audio hdmi, 1 channel 3.5MM independent audio support audio gain
Audio coding
AAC/MP3/G.711
Audio bit rate
64Kb/s~384Kb/s
Sampling rate
32000、44100 ,48000etc
IP

 

output

1 RJ45 100M / 1000M adaptive Ethernet port
System
Network protocol
HTTP, RTSP, RTMP, ONVIF, HLS, UDP multicast, unicast
Configuration management
User interface, remote upgrade multi-one management platform
The common use
Power supply
12V~2A
power consumption
5W
Size
100mm * 70mm * 25mm (length*width*height)
Operating temperature
-20℃+ 60℃
Working humidity
<90%,Non-condensing
Weight
0.18KG
Firmware update to allow use of RTMPS streams. Unzip the file and upload upgrade.bin via settings page.
How do I stream to Social Media?
In Encoder settings, enable RTMP/RTMPS push.
Enter the RTMP URL from your live stream settings from your social media account followed by a forward slash '/' and then the stream key (example rtmp://a.rtmp.youtube.com/live2/ydf7-27zq-jf2t-1mx8-xxxx) 

I can see the encoder web interface but the stream will not push to social media
This is normally due to incorrect network settings. There are 2 options to fix this. 
1. In settings check that the default gateway is correct. The encoder comes with DHCP disabled and has a default gateway of 192.168.1.1 some ISP's (such as BT and Virgin) use 192.168.1.254 as the default gateway. Your default gateway will normally be the IP address of your broadband router.
2. In settings enable DHCP and reboot the encoder, the encoder will then get it's network settings from your broadband router. Once you do this you will need to scan your network to see what the new IP address is. We suggest using ONVIF Device Manager for this, as it will only pick up network devices that have Onvif activated (the ES264 has this activated by default) - https://sourceforge.net/projects/onvifdm/
When you run this you should see a device labelled HD-Encoder, the encoder IP address will be shown.
YouTube says excellent connection but no video is displayed
YouTube used to allow you to set the live stream and leave it running constantly, even when the encoder was not connected, it seems that recently this has changed and you must start and stop the stream, this can be done automatically within the YouTube settings.