TBS 6209 DVB-T2/C2/T/C/ISDB-T OctaTV Tuner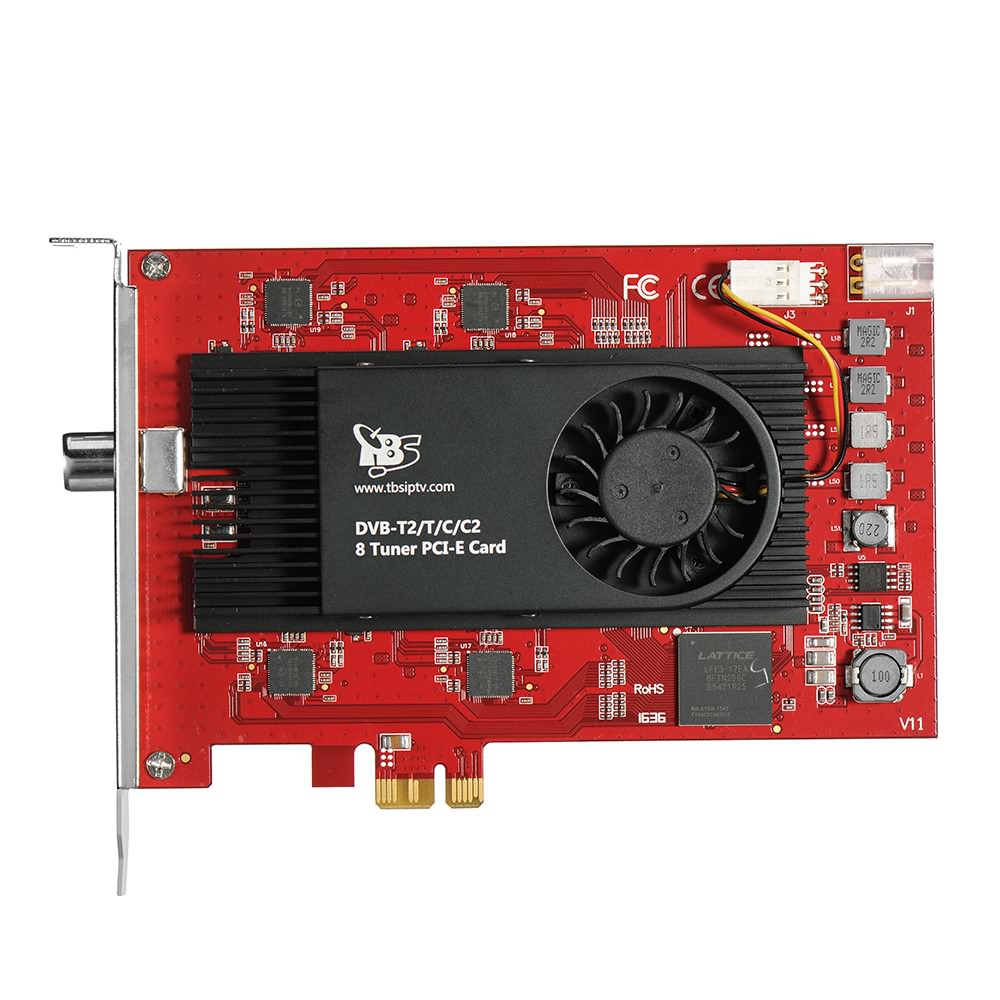 TBS 6209 DVB-T2/C2/T/C/ISDB-T OctaTV Tuner
The TBS6209 is an 8 tuner DVB-T/T2/C/C2 PCIe tuner card for the reception of digital terrestrial (DVB-T) or digital cable (DVB-C) services.
As the TBS 6209 has 8 independent tuners it can receive services from 8 frequencies or muxes, this allows for the reception of most of the UK Freeview platform on a single DVB tuner card.
For ease of use the TBS6209 has a single coaxial input, the signal is then split and sent to each tuner individually. 
The TBS 6209 has both windows and linux drivers so can be used for both commercial and personal use.
Main Features:
DVB-T2/C2/T/C SD or HD TV receiving
Tune to 8 frequencies (muxes) simultaneously 
Reception of SD (MPEG2) and HD (MPEG4 AVC) programming.
Ideal for SAT>IP users, allows for 8 independent users.
High sensitivity DVB-T2 octa Tuner for the best digital TV reception
Windows BDA driver and Linux Driver ready
DVB-T2 and T2-Lite
Receiving channel: VHF band, UHF band
Bandwidth:  1.7, 5, 6, 7, 8MHz
FEC:QPSK, 16QAM, 64QAM,256QAM
FFT mode: 1K, 2K, 4K, 8K, 16K, 32K
Code rate: 1/2, 2/3, 3/4, 5/6, 7/8
DVB-C2
COFDM demodulator(16_QAM to 4096_QAM)
FEC(LDPC/BCH) decoder
Bandwidth: 6MHz, 7MHz, 8MHz
DVB-C
QAM demodulator
FEC decoder
1 to 7.2MSymbol/s
ISDB-T
COFDM demodulator and FEC decoding
Support 3 layers decoding
TMCC decoding
Support differential demodulation
AC1 and AC2 decoding
Power consumption
Input/ Power:
12V/14W
temperature
0~60℃
System Requirements
Windows XP / Vista/ 7/8/10, Linux
Available PCI Express x1, x4, x8 or x16 slot
Digital TV signal (DVB-T2/C2/T/C//ISDB-T)
Dimension:
TV tuner card size
104.5mm*150mm
Net weight
190g
Gift Box Size
17.7*16*3CM
Weight
280g
Package Contents
1 x TBS6209
1x DC line
1x F Connector