TBS2630 8 channel HD H.264/H.265 HDMI Encoder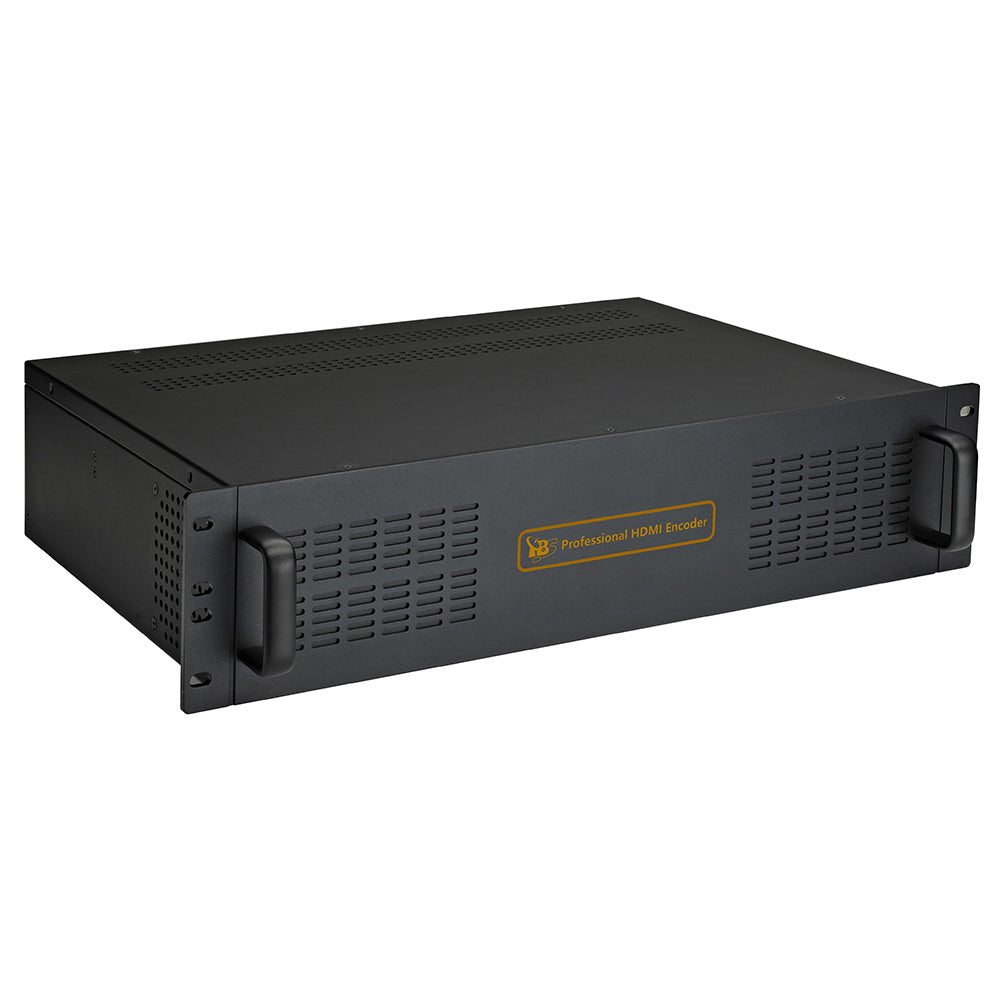 TBS2630 8 channel HD H.264/H.265 HDMI Encoder
The TBS 2630 is a professional 8 input HDMI encoder. 
The TBS2630 can encode 8 independent HDMI sources to H.264 (MPEG4 AVC) or H.265 (HEVC) at a resolution up to 1080P/60 and AAC or MP3 audio with very low latency.
The TBS 2630 supports simultaneous dual stream output via HTTP, RTSP, RTP, RTMP or UDP protocols, allowing for both a high bitrate stream for larger screens as well as a lower bitrate for smaller screens.
The TBS 2630 has a variety of uses, from testing set top box's to hotel TV systems.
Also available with 16 X inputs
Main Features:
Display multiple PC's or other HDMI signals on a single monitor
Directly connect the HDMI sources to a standard network, allowing anybody with network access viewing of the sources.
Main stream and secondary stream can use different network protocols and encoding settings for transmission
Low Power consumption, less than 6W
compliant with HTTP/RTSP/RTP/RTMP/UDP protocols
Application:
IPTV
Digital Signage
Video Conference
Replace HD Video Capture Card
Hotel TV system
Live Broadcast
Teaching/Campus Broadcast
Recording System
Specifications:
Dimension: 482*320.2x108mm (length x height)
Max Power consumption: 96W
Dimension: 482*320.2x108mm (length x height)
Max Power consumption: 96W


Input
Video Input
8 x HDMI 1.3a
Audio input
HDMI embedded audio
AC IN
110V~240V
AC rate
60/50Hz
Output
DC output
12V/12.5A
Power Dissipation
96W
Vedio
HDMI Resolution:
1920x1080/1680x1050/1280x720/1600x1200/960x540/720*576/704*576 etc
Encoding
BASELINE PROFILE (for H.264 and H.265)
MAIN PROFILE (for H.264 only)
HIGH PROFILE (for H.264 only)
Data Rate
0.8Mbps~12Mbps;
Rate Control
CBR/VBR, 16KBIT/S~12MBIT/S
GOP Structure
IBBP
Advanced Pretreatment
De-interlacing, Noise Reduction, Sharpening
Audio
Encoding
AAC, MP3
Sampling rate
Auto
Bit-rate
32K/48K/64K/96K/128K/160K/192K
Sampling precision
16 bit
Data Rate
64Kb/s ~ 384Kb/s
System
OS

 

WINDOWS XP/VISTA/SERVER2003/SERVER2008/WIN7 32 and WIN7 64; LINUX
Ethernet/RJ45
1000 Base-T Ethernet interface
Others
Dimension
482mm*320.2mm*108mm
Net weight
7.5kg
temperature
-20℃+ 60℃
Package contents:
1x TBS2630
1x Power line
1x HDMI cable