TBS 2604 4K UHD H.265 (HEVC) / H.264 (MPEG4 AVC) HDMI Video Encoder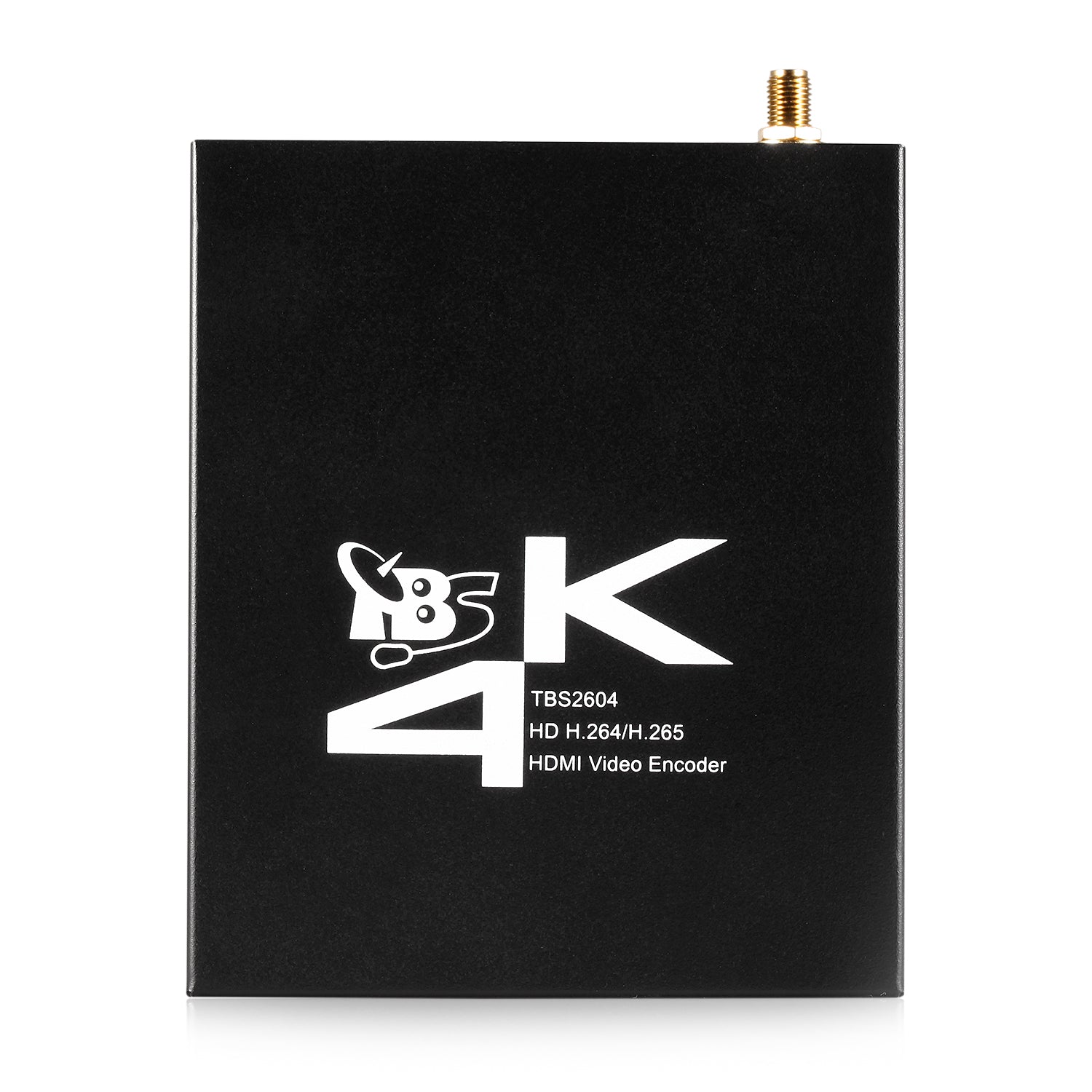 TBS 2604 4K UHD H.265 (HEVC) / H.264 (MPEG4 AVC) HDMI Video Encoder
The TBS2604 4K UHD video encoder accepts 1 HDMI input at maximum resolution 3840 x 2160P (30 FPS) and encodes the signal to H.265 (HEVC) or H.264 (AVC) to a customised bit rate either CBR or ABR with AAC or MP3 audio encoding.
The TBS 2604 is ideal for lowering the bandwidth of a 4K UHD video for distribution over LAN / WAN whilst maintaining high quality video.
The TBS 2604 has dual stream output, allowing for any both H.265 and H.264 to be streamed at the same time, making it useful for situations where the receiving device only has H.264 codec embedded.
The streams can be set independently of each other, so stream 1 can be set to a high bitrate for local streaming and stream 2 set to low bitrate for remote viewing.
The streams can be set to use any of these protocols - HTTP, RTSP, RTP, RTMP or UDP.
Please note - only stream 1 has H.265 encoding.
The TBS2604 supports Wi-Fi 802.11n 2.4G for Web UI control as well as video streaming out. Due to the Wi-Fi network limitation, low bitrate video will be suggested to be streamed out over wireless. 
Web based UI
Easy to use web based UI for encoder settings.
Default access address: 192.168.1.168
Default Name: root Default Password: root
Video Input
 1 x HDMI 1.4a
Audio input
Audio Line in
HDMI Audio
Ethernet/RJ45 output
1000 Base-T Ethernet interface
HDMI Resolution:
3840x2160/1920x1080/1680x1050/1280x720/1600x1200/960x540/720*576/
704*576 etc.
Encoding Profiles
Main Profile (for H.264 and H.265)
Baseline Profile (for H.264 only)
High Profile (for H.264 only)
Encoding streaming
Main stream x 1 ( H.264 MJPEG-4 / H.265 HEVC)
Second stream x 1 (H.264 MJPEG-4)
Data Rate Range
0.8Mbps~30Mbps;
Rate Control
CBR/VBR, FIXQP
GOP Structure
IBBP
Advanced Pre-treatment
De-interlacing, Noise Reduction, Sharpening
Audio Encoding
AAC, MP3
Audio Bit-rate
48K/64K/96K/128K/160K/192K/256k
Sampling precision
16 bit
Ethernet/RJ45
1000 Base-T Ethernet interface
Network Standard
100/1,000 base-T Ethernet
Auto speed
Unicast, multicast
Streaming Protocols
HTTP/RTSP/RTP/RTMP/UDP
Wi-Fi
802.11n 2.4G
Control
Web UI control/Telnet
DC output
12V/2A
Temperature
Operating Temperature Range: 0 ~ 45 degrees Celsius
Dimension
11.4cm*9.6cm*2.7cm
Net weight
0.6kg