TBS6301 - 1 Input PCIe HDMI HD Capture card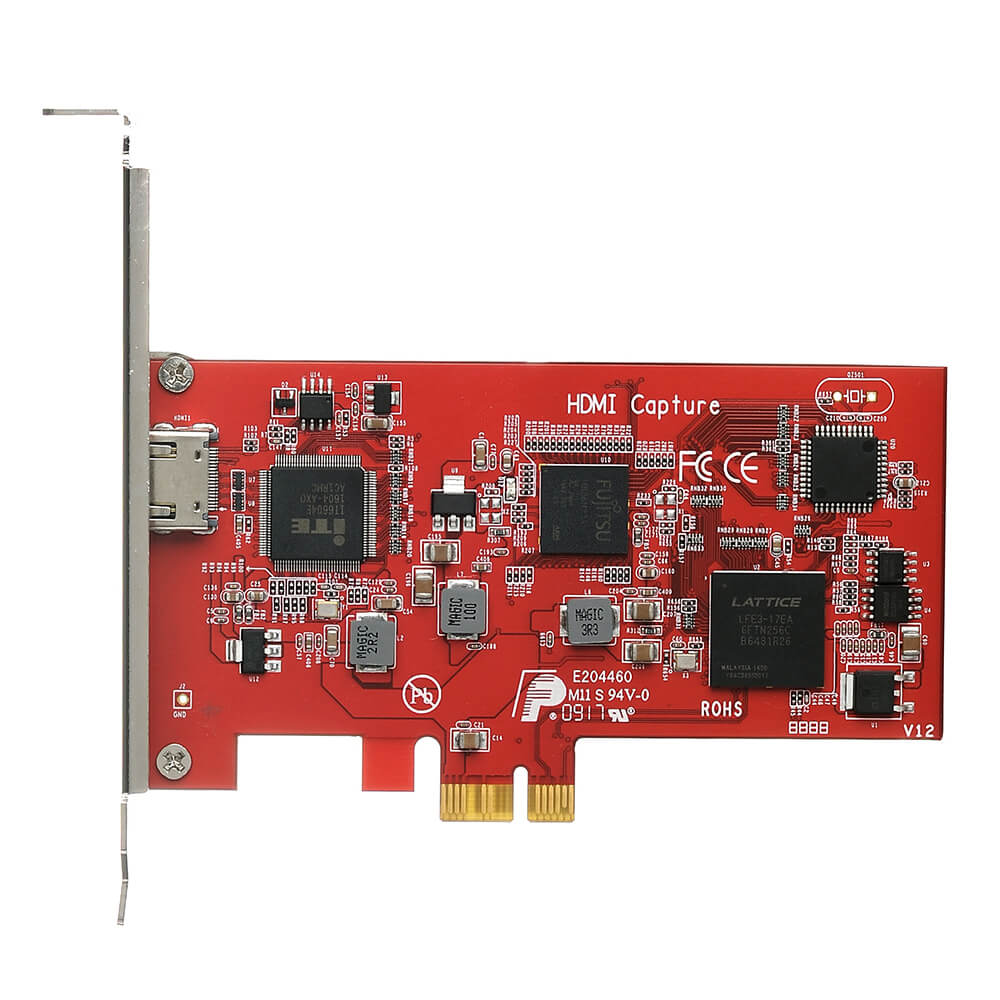 TBS6301 - 1 Input PCIe HDMI HD Capture card
The TBS6301 HDMI PCIe video capture card has a single HDMI (v1.4) input. It supports video and audio capture and playback up to a 1080P full HD resolution.
The TBS6301 can be connected to any device with HDMI 1.4 output, the output is then be encoded via an H.264 hardware encoder and streamed via multicast or unicast over a standard IP network or simply captured directly to a hard drive.
The TBS6301 is ideal for capturing live HDMI streams from a set top box or satellite receiver, as well as for capturing game play from games console.
| | |
| --- | --- |
| Model | TBS6301 |
| Interface | PCI-E x1 |
| Input | HDMI 1.4a |
| Recording mode | Hardware compression, real time mode |
| Display video format | YV12,NV12,YUY2,RGB24,RGB32 |
| Video format | H.264 |
| Audio Input | HDMI Embedded audio |
| Color Space | YUYV, UYVY, I420, RGB 24 Bits, RGB 32 Bits |
| Image Mirror | Horizontal; vertical |
| Update | Firmware could be updated |
| OS and Driver | Windows XP / Vista / Windows 7 /Windows 8 / Windows 10/Linux |
| Power | 12V/6W |
| temperature | 0~60 |
| Dimension | 18.5*16.5*3.5 |
| Weight | 300g |
HDMI input Video format support:
| | | | |
| --- | --- | --- | --- |
| Horizontal size | Vertical size | rate | I (Interleave)or P (Progressive) |
| 1920 | 1080 | 60/59.94 | I |
| 1920 | 1080 | 50 | I |
| 1280 | 720 | 60/59.94 | P |
| 1280 | 720 | 50 | P |
| 720 | 483(480) | 59.94 | P |
| 720 | 576 | 50 | P |
| 1920 | 1080 | 30/29.97 | P |
| 1920 | 1080 | 24/23.98 | P |
| 1280 | 720 | 30/29.97 | P |
| 1280 | 720 | 24/23.98 | P |