TBS 8502 - H.265 (AVC) / H.264 (HEVC) 40 Channel Transcoder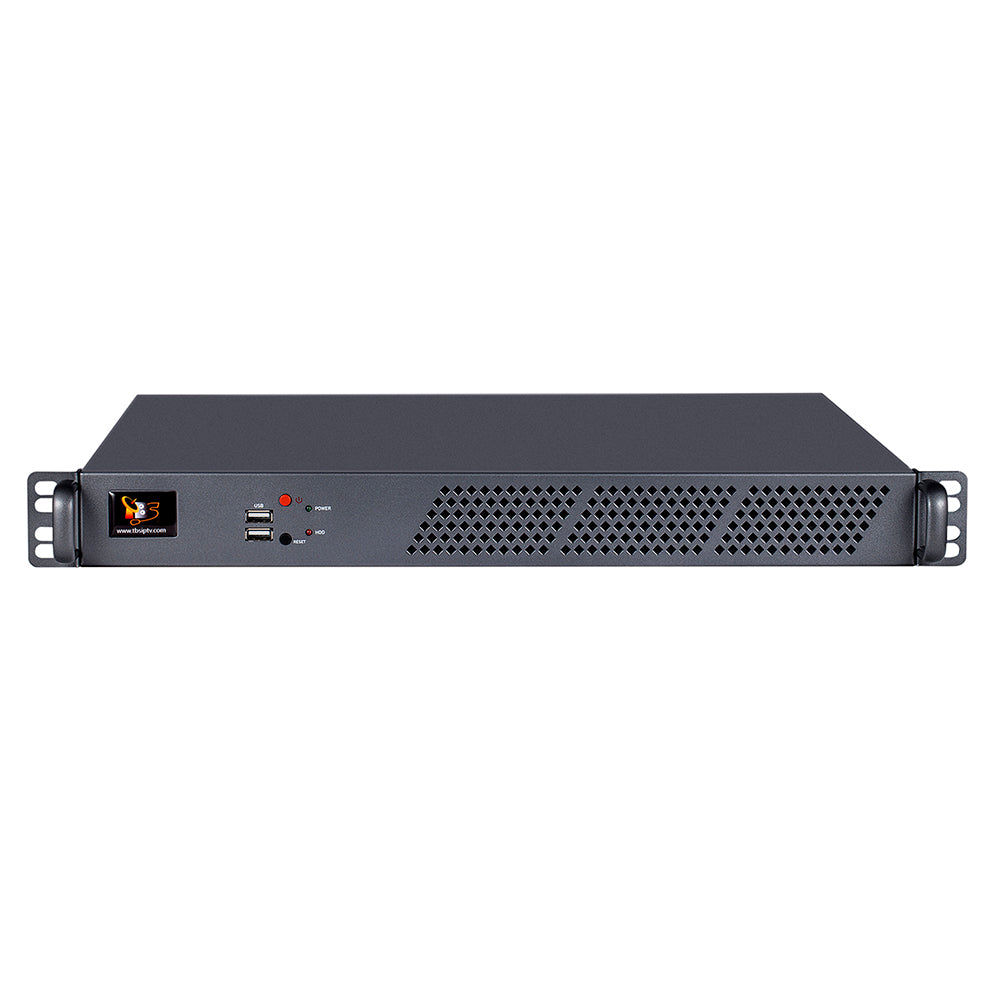 TBS 8502 - H.265 (AVC) / H.264 (HEVC) 40 Channel Transcoder
The TBS8502 real time transcoder can transcode up to 40 SD or 15 HD channels to reduce bandwidth constraints for OTT or local network distribution.

The TBS 8502 has a single PCIe expansion slot for direct reception of up to 8 DVB-T/T2 / DVB-C/C2 muxes, 8 DVBS/S2 frequencies, 4 ASI inputs or 4 HDMI inputs.

The TBS8502 can also receive inputs via UDP, RTP, HTTP, HLS, and Media Files (these can be set to loop).

The output streams can be encoded in either H.264 (HEVC) or H.265 (AVC) and delivered by RTMP, HTTP, UDP or RTP.

Each input can be transcoded to various output configurations, allowing for ABR streaming for use on multiple devices.

The TBS 8502 is perfect for organisations looking to provide in house content over the internet to remote offices or directly to staff whom are not office based.
 Input
DVBS/S2,DVBT/T2,DVBC,ATSC,ISDBT,DTMB,HDMI,ASI, and RJ45
DVB Tuner Transponders:
Up to 8 transponders
MPEG Transport Streams:
MPTS and SPTS
IP protocol:
UDP, RTP, HTTP, HLS, Media Files
Addressing:
Unicast and Multicast
SD/HD Re-encoding /Transcoding:
Up to 40 SD channels
Up to 15 HD channels
HD to SD Down Conversion:
Up to 15 HD to SD Conversion
Logo Insertion:
Yes
Subtitle Display:
Yes
Deinterlace:
Default, Close, Linear, Blend, Yadif
PID Configuration:
PMT/Video/Audio PIN; PCR delay/disp interval
Video Input Bitrate:
SD MPEG-2: 0.5-12Mbps
HD MPEG-2: 0.5-50Mbps
SD MPEG-4 AVC: 0.5-12Mbps
HD MPEG-4 AVC: 0.5-30Mbps
HD H.265/HEVC : 0.5-30Mbps
Bitrate Control:
VBR, CBR
Frame Rate:
2-30fps
B-Frame:
2 (default)
Key Frame Rate:
1-18
Scale:
Ordinary, Auto Padding intelligent Scale
Fast Mode:
Quality Priority, Balanced, Speed Priority
Numbers of Encoding
1 Audio channel for 1 Video source
Audio Encoding:
AAC, MP3
Audio Track:
0, 1, 2, 3
Sample Rate:
8khz to 48khz
Bitrate Rate:
8kbps to 384kbps
Configuration:
Web User Interface
Port:
RJ45, 100/1000m Base-T
Language:
English (Default)
Power Supply:
110 – 240 VAC
Power Consumption:
250W
Dimensions/Weight:
44*39*5cm/14kg