Freeview IPTV Server for hotel or office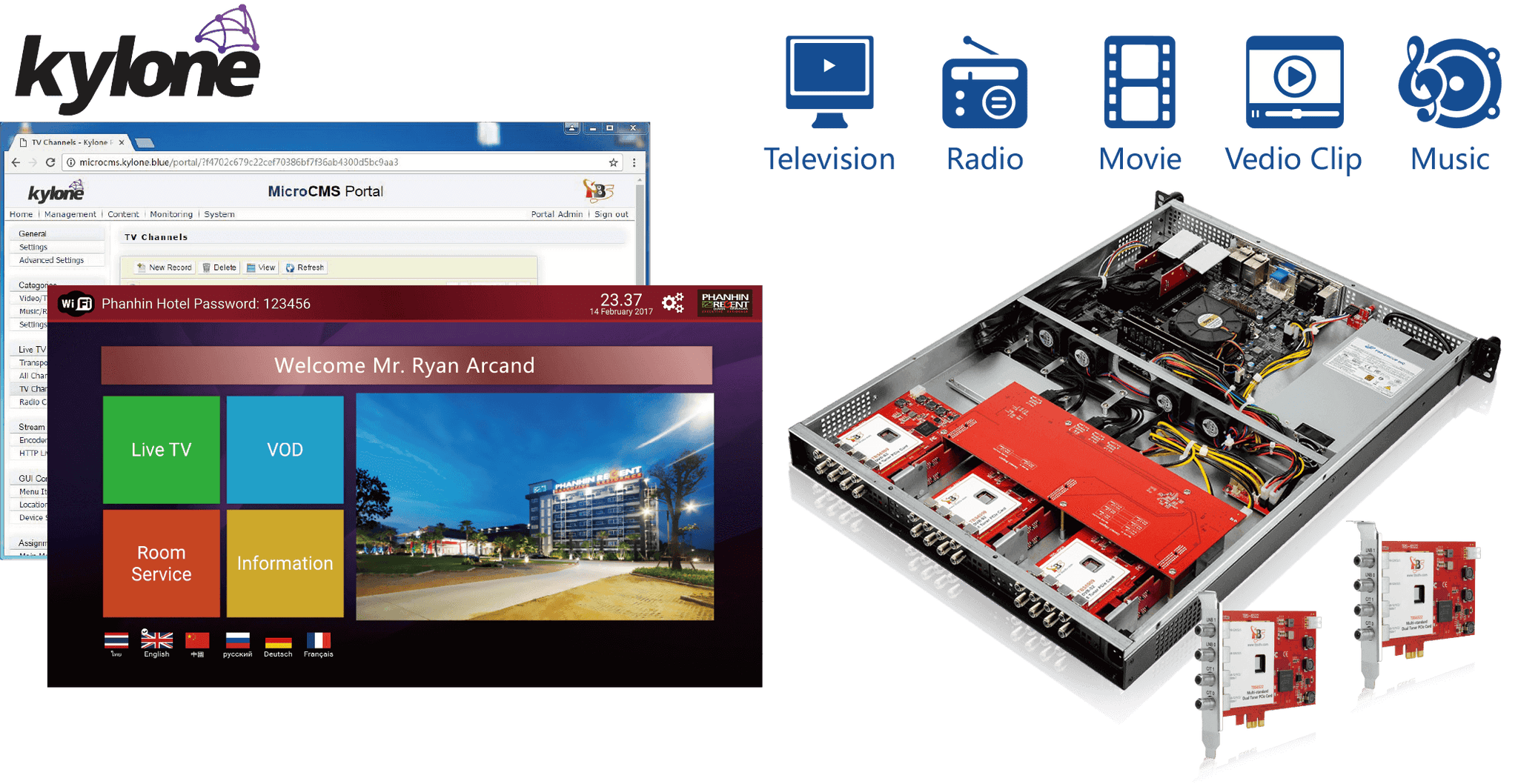 Freeview IPTV Server for hotel or office
A complete system to convert DVB-T and DVB-T2 signals to unicast or multicast IPTV.
The system comprises of the IPTV server, 2 x 2 Quad DVB-T/T2 input cards, IPTV Middleware and Set Top Boxes (STB's).
The system is ideal for hotels, offices, retail, travel stations etc.
When used in hotel mode, the set top boxes can be utilised as wifi hotspots, reducing the need for an additional wifi network to be installed.
The system has a sophisticated UI for configuring the incoming DVB-T signals and outgoing streams and can also accept an unlimited amount of IP streams in various formats.
The set top box has a customisable user interface for watching TV or listening to radio stations with the added benefit of being able to display HTML5 content as information pages.
Processor
AMD® Embedded G-Series SoC (Quad Core, 2GHz)
RAM
Support up to 8GB
Graphics
Integrated AMD Radeon™ HD
APU
AMD® Embedded G-Series SoC
Ethernet
2x LAN Gbit / 100 Mbit / 10 Mbit,
Storage
1 x SATA 6.0 Gb/s
SSD
30G mSATA SSD
RS232
2 x RS232
FRONT PANEL
POWER SW
POWER LED
Display Interface
1 x HDMI
1 x VGA (The reserved connection)
USB
4 x USB 2.0
2 x USB 3.0
Expansion Interface
2 x PCI-E
Operating Systems
Microsoft® Windows 8, Microsoft® Windows 7,
Microsoft® Windows® 7/8 embedded Standard, Microsoft® Windows® 7 Embedded Compact
Linux, Ubuntu,
Operating Temperature
-25°C ~ 70°C
Humidity
10%~90% , non-condensing
Storage Temperature
-40°C ~ 85°C