TBS6909 DVB-S2 8 Tuner PCIe Card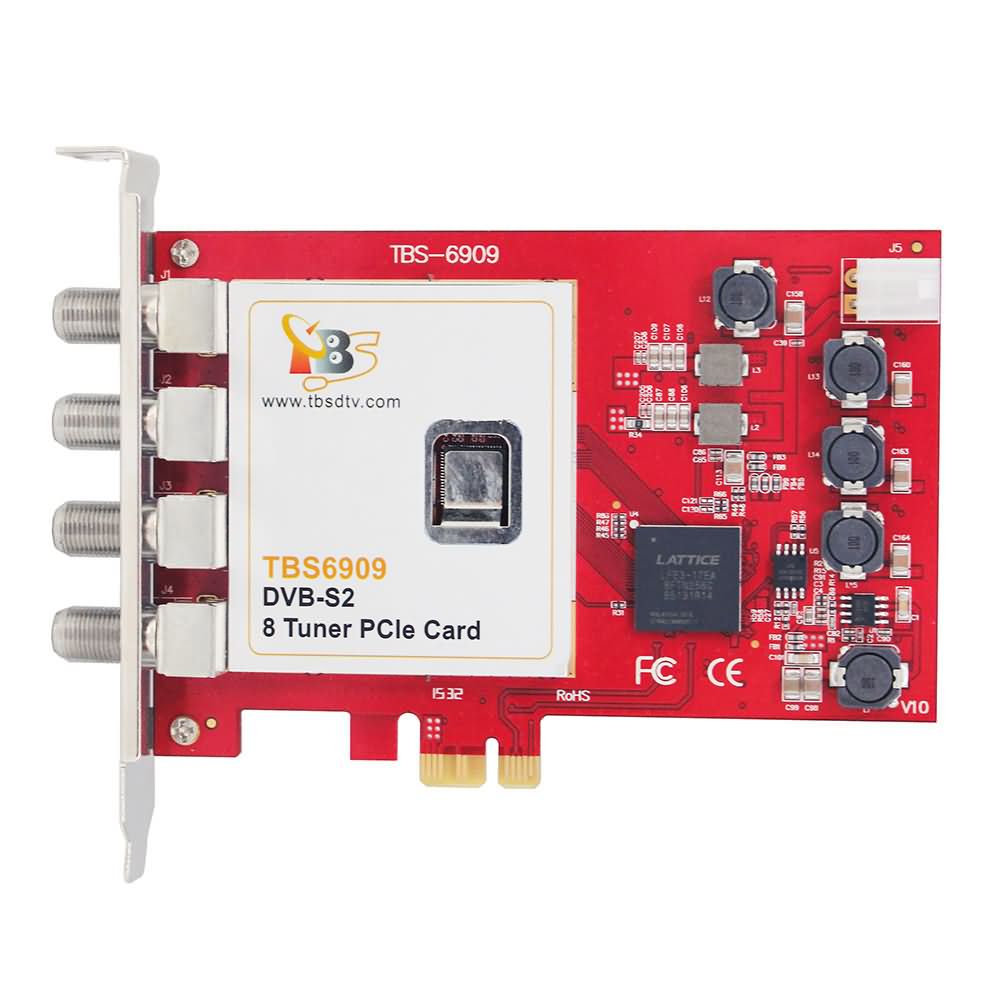 TBS6909 DVB-S2 8 Tuner PCIe Card
The TBS 6909 is a professional 8 tuner DVB-S and DVB-S2 tuner card with PCIe interface.
The TBS 6909 has a built in multiswitch allowing for 4 satellite connections either from a quad or quattro LNB.
The TBS6909 enables you to capture and stream live DVB-S and DVB-S2 signals from 8 different transponders from 1 PCIe expansion slot, making it ideal for use in IPTV server environments.
The TBS 6909 is useful for SAT>IP applications, this allows for 8 independent user connections to 1 PCIe card.
Benefits:
DVB-S2/S 8 tuner
Watch & record satellite TV/ radio programs on PC
EPG (Electronic Program Guide) support
Unicable/one cable compatible
High-speed data download via satellite
High reliability

Applications:
Data receiving
IPTV streaming
Media monitoring
Digital content distribution
Specifications:
Frequency range: 950~2150 MHz
Signal Level: -85~-10dB
Symbol rate: 1~45Msps
Demodulation:
DVB-S QPSK, DVB-S2 8PSK
FEC:
DVB-S2
    8PSK: 3/5, 2/3, 3/4, 4/5, 5/6, 8/9, 9/10
DVB-S
    QPSK: 1/2, 2/3, 3/4, 5/6, 7/8
DiSEqC support: 1.0, 1.2, 2.x
Dimension: 130*92mm (length x height)
Max Power consumption: 24W

Connections:
PCI Express
4x RF IN
TBS6909 has 8 Tuners & Demodulators, but it only has 4 inputs, because it has a multiswitch inside, defining 4 inputs to receive 4 single polarity signals( Input0=VL; Input 1=VH; Input 2=HL; Input3=HH)

System Requirements:
Windows 2000/XP/Vista/7/8/10 or Linux OS
Available PCI Express x1, x4, x8 or x16 slot
Satellite dish and LNB

Package Contents:
1 x TBS6909
1 x DC line